Living area of main apartment
Beautiful, Pet-Friendly Bed and Breakfast near Asheville, NC at Asheville Farm
™
Located 11 miles from downtown Asheville (just 12 miles from the Biltmore Estate) and featuring lovely mountain views, you'll love our clean, spacious, family-friendly and pet-friendly bed and breakfast near Asheville, NC.
Whether you're looking for a romantic getaway, a 'home base' while visiting the Blue Ridge Parkway or other attractions in the Asheville area -- or you simply want a quiet, comfortable place to kick-back and relax in privacy, our Airbnb and VRBO farmstay home is exactly what you're looking for.
Amenities include:
Convenient Location
11 miles to downtown Asheville, 12 to Biltmore Estate. Just 1/2 mile off Hwy 63.

Mountain Views
Great views from inside
home and on both decks.

Dog Friendly
Furniture covers, food & water bowls, drying towels. Fenced yard w/ dog house.

Fast & Reliable WiFi
100mbps WiFi, laptop-friendly workspace, adapters & chargers provided.

Full or Self Check-in
We love meeting guests at checkin but key lock box also available.

Free Washer & Dryer
Ideal for doing personal laundry. (We handle washing towels & bedding.)

Fully Equipped Kitchen
Stove, refrigerator, coffee maker, utensils, dishes, microwave, dishwasher.

Family Friendly
Graco Pack'nPlay, high chair, bathtub, washer & dryer, outlet plugs, etc.

Sheltered Fire Pit
We provide wood logs. Toast your marshmellows, grill hotdogs or burgers!

Central A/C & Heating
Guests set thermostats to suit personal comfort.

40" & 32" Roku Televisions
Many free channels & compatible with Netflix or your cable provider login.

Farm Animals
Cows, adorable mini goats & chickens. Complimentary, fresh eggs.
Away from it all, yet just minutes from conveniences
The Bed and Breakfast at Asheville Farm is located just 1/2 mile off Hwy 63 (New Leicester Hwy). So you're not far from a large supermarket, delicious, local BBQ stand, major fast food outlets, banking, and drug stores -- yet far enough from the hustle, bustle, noise and traffic of the city. And, of course, we provide free TV, high-speed internet (wifi), and use of outdoor propane grill.
This bnb home is actually a duplex on the top floor, with horse stalls (no longer used) beneath.
Each of the two apartments has its own outside deck, full bath, fully equipped kitchen, bedroom (queen-sized bed) and pullout sofa (queen-sized bed). The two apartments are joined by a cozy, window-filled hallway/sunroom (includes a futon couch with memory foam mattress topper that makes into a full-sized bed). Click here for a view of the floor plan / layout.
If there are only 2 or 3 of you traveling together, you may want to reserve just the primary apartment. But if you're bringing a bit larger group (3 to 5 guests) you'll want to also reserve the smaller, optional, lockout apartment.
Whether you reserve just the primary apartment or the full home (both apartments), you'll be the only guests on the property during your stay.


Living area of smaller apartment
Traveling with a pet (or two)?
Well-behaved, house-trained pets are always welcome at our B & B for no added fee. We provide a fenced yard, pet water and food bowls, mats, towels for drying off dogs (in case of rain), potty pads, poop bags, cleaning supplies (in case of 'an accident') and flea combs (ticks, fleas and poison ivy are a year 'round consideration. We do our best to minimize them but all dogs must be current on tick & flea medication.)

We'll even accommodate folks traveling with horses or small livestock, but you must reach out to us before booking your reservation. (While we do charge extra for hosting livestock, we'll take care of the electric fencing, waterers, feeders, pasture and most other supplies that livestock require.)
Feedback from these wonderful guests
"Thanks for an awesome stay!
This is the best dog friendly B and B ever."
Sunroom / hallway between apartments
We promise you a clean, comfortable, and enjoyable stay
Nothing matters more to us than the happiness of our bed and breakfast guests! (Speaking of breakfast, the kitchen cupboards are always stocked with ground coffee, a variety of hot cereals and, hopefully, plenty of freshly collected eggs for the duration of the stay. The hens' productivity varies a bit with the seasons.)
If you're planning a trip to Asheville or other nearby areas in Western North Carolina and looking for the best bed and breakfast, we'd love to share our relaxing farm stay experience with you.
Select the booking option that works best for you!
Traveling with 1-3 in your group? We think you'll be happy with the primary (larger) apartment along with the sunroom / hallway. This gives you a queen bed, full bath, kitchen, dining and living areas plus a queen futon sofa and half bath in the hallway. Plus, a large outdoor deck (with patio furniture and gas grill) and a laundry washer and dryer. (But you're not responsible for washing any bedding, towels, etc. We handle all of that -- leaving you more time to enjoy all the things to do near Asheville.)
For groups of 3-5, we recommend booking the entire house: this includes both the primary and secondary apartments plus the sunroom / hallway. Both apartments come with fully equipped kitchen, full bath, bedroom with queen bed, comfortable living and dining areas, outdoor decks with patio furniture, gas grill, TV and Wifi. Plus the queen futon sofa and half bath in the hallway.
The two apartments are joined by the hallway but each apartment can be locked off, if desired, for privacy. Each has it's own outdoor entrance, as well. Click here to see the home floor plan / layout. Whether your reservation is for a large or small group, you'll be the only guests on the property during your stay.
Back deck view on frosty morning (2x zoom)
Reserve your AirBnB or VRBO stay in Asheville now!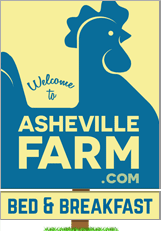 © 2023, Bed and Breakfast near Asheville, NC at Asheville Farm, Leicester, North Carolina
Contact: [email protected] | About Us | Privacy Policy | Terms of Service


Google |

Facebook |
Twitter |

Instagram |

Pinterest |

TikTok