Fall colors in pasture below the B and B home
B&B at Asheville Farm > Our B and B News
B&B News
March 2023

Amazingly cool, old magazines featuring awesome rooster art in the larger of the 2 apartments in the duplex home. (Click here to see the floor plan / layout.)
February 2023

Since we live just minutes away on the property, we love meeting guests upon arrival. When that's not possible, however, the photo wall in our B&B entryway welcomes everyone and provides our 24/7 contact information.
January 2023

Adorable set of wooden farm animals on the living room hutch in the primary apartment.
December 2022

Holiday season is an a beautiful time to visit here in Asheville
October 2022

October 7 and fall colors are already gorgeous behind the B and B home
September 2022

This rainbow appeared on a misty morning in September. Photo taken from pasture above the B and B home.
August 2022

We have 3 adorable and super friendly itty-bitty goat bucks that love getting attention from our guests.
July 2022

The cows often graze just off the back deck in the evenings, as the day is cooling down.

There is no prettier place to sit than in the sunroom/hallway that adjoins the larger and smaller apartments.

The sunroom/hallway futon is also a magical place to sleep when guests need more than just the 2 queen sized beds in the home. With its foam topper (which didn't make it onto the bed for this photo), the futon sleeper is super comfortable. And the sunroom/hallway even has its own private half bath.
June 2022

Our favorite, dog-friendly place to hike is the NC Arboretum, which is about a half hour drive from our pet-friendly B and B home. Bent Creek inside the Arboretum offers lots of beautiful, cold, and clean swimming holes for dogs. Here we are drying off Kona after an afternoon hike and swim.
May 2022

A few of the chickens that produce fresh eggs for our guests. Since we seem to have many more owls and hawks than we did in the past, the hens are now raised in large, net 'tents' that we move frequently. This keeps the girls safe as they spend their days worm and grasshopper hunting outdoors on fresh grass.
April 2022

We aren't gardening as much now that we offer the home for B and B, but we love sharing our blueberries, blackberries and whatever else is in-season with guests. We noticed this adorable caterpillar with fake eyeballs in the garden.
Reserve your Asheville B and B stay with us now!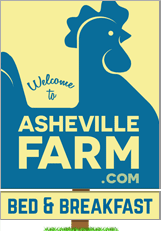 © 2022, Bed and Breakfast at Asheville Farm, North Carolina
Contact: [email protected] | About Us | Privacy Policy | Terms of Service