B&B at Asheville Farm > Map to Area Attractions
Map to Asheville Area Attractions
* The Brevard Road entrance to the BRP indicated here is our favorite access point when heading southbound to Graveyard Fields (for wild blueberry picking and waterfall hiking) and Cradle of Forestry (lots of easily accessible waterfalls). If your plans are to head north from Asheville to visit Craggy Gardens and Mt. Mitchell (highest point in the US east of the Mississippi), we suggest using the BRP entrance at the end of I-240 just east of Asheville. It just so happens that each of these two BRP access points is a 16 mile drive from our BnB.
Here's a list of things to see and do in Asheville, NC
The driving distance/minutes from our BnB to each attraction were provided by Google maps:
Biltmore Estate - (12.4 mi/22min) A grand, historic mansion built by George Vanderbilt, boasting 250 rooms, lush gardens, a glass greenhouse/conservatory with exotic tropical plants. It's the largest privately-owned house in the United States. Beyond the home, the 8,000 acre estate includes a winery (that you can tour), a petting farm, a small village with shops, restaurants, guided activities, and lots of biking, hiking and horseback riding trails.
Downtown Asheville - (10.5 mi/19 min) Wander through the eclectic mix of shops, boutiques, art galleries, and restaurants in downtown Asheville, known for its vibrant arts and cultural scene.
Blue Ridge Parkway - (16.4 mi/26 min) Drive along this scenic highway through the majestic Blue Ridge Mountains, hike scenic trails, and enjoy breathtaking waterfalls and vistas of the surrounding landscapes.
The North Carolina Arboretum - (16.3 mi/25 min) Wander through beautiful gardens, take scenic hikes, and learn about the diverse plant life of the Appalachian region in this expansive botanical garden, spanning over 400 acres.
River Arts District - (10.2 mi/18 min) Explore a bustling neighborhood of over 200 artists with galleries, studios, shops, and cafes showcasing a wide range of art styles and mediums. Located along the French Broad River.
Asheville Pinball Museum - (10.5 mi/18 min) Play vintage pinball machines and classic arcade games while immersing yourself in the history of pinball and gaming at this unique museum.
Asheville Urban Trail - (11.2 mi/20 min) Take a self-guided walking tour through downtown Asheville to discover its rich history and vibrant arts scene through 30 unique sculptures and plaques.
Folk Art Center - (16.6 mi/27 min) Discover traditional and contemporary Appalachian arts and crafts, including pottery, textiles, and woodwork, at this museum and gallery dedicated to preserving regional culture.
Asheville Botanical Gardens - (9.6 mi/20 min) Stroll through these serene gardens and learn about native plants of the Southern Appalachians, featuring walking trails, a greenhouse, and educational exhibits.
Outdoor Adventures - With the nearby Pisgah National Forest and Great Smoky Mountains, Asheville offers abundant opportunities for hiking, biking, rafting, ziplining, and other outdoor adventures.
Live Music Scene - Experience Asheville's vibrant music scene with numerous live music venues offering a wide range of genres, from bluegrass and folk to jazz and rock.
Local Breweries - Asheville is known for its craft beer scene, with over 30 breweries offering unique brews and tasting rooms to explore.
Food Tours - Embark on a culinary adventure with food tours that showcase Asheville's diverse and creative food scene, from farm-to-table restaurants to food trucks.
Outdoor Sculptures - Discover the city's public art scene with various outdoor sculptures scattered throughout Asheville, showcasing local artists and their unique creations.
Asheville offers a rich blend of natural beauty, cultural richness, and outdoor adventures, making it a unique and exciting destination for travelers. Whether you're interested in history, art, food, or outdoor activities, Asheville has something to offer for everyone.
Like more info?
If you have any questions or comments, please email us at [email protected] (When emailing us, be certain to include the words "Bed and Breakfast" in the subject line so that your message doesn't accidentally get overlooked).

We hope to see you soon!
The Bed and Breakfast at Asheville Farm
Reserve your stay with us now!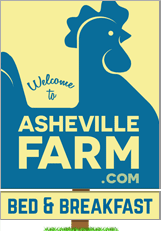 © 2023, Bed and Breakfast near Asheville, NC at Asheville Farm, Leicester, North Carolina
Contact: [email protected] | About Us | Privacy Policy | Terms of Service


Google |

Facebook |
Twitter |

Instagram |

Pinterest |

TikTok